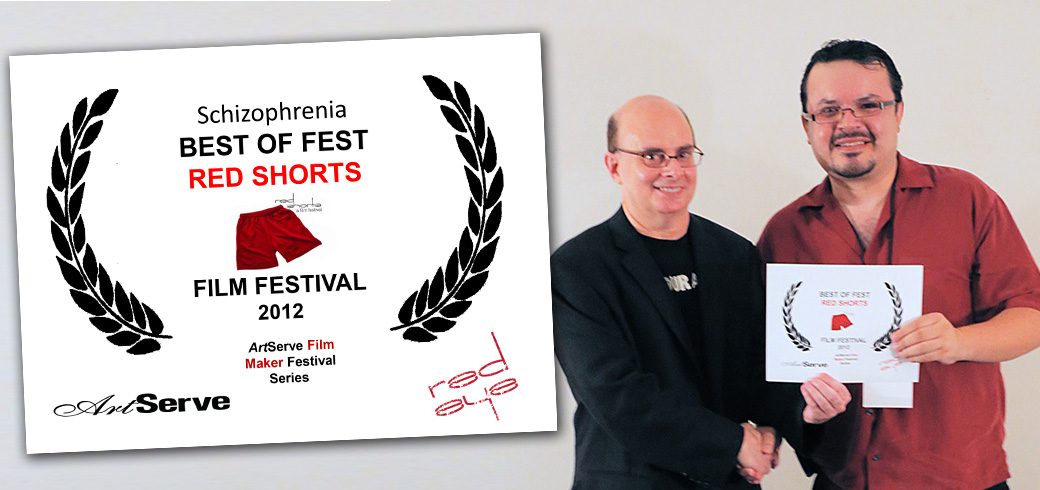 MIAMI, FL (PRWEB) July 27, 2012

The Ecuadorian Director Carlos P. Yela received Best of Fest award in Important Film Festival in Broward County, Florida.

On July 14th ArtServe´s "Red Shorts Film Festival" honored filmmakers in the categories of Best of Fest , Best Music Video, Overall Audience Favorite and Audience Program Favorites at ArtServe´s Theater in Fort Lauderdale with the participation of over 15 short films.

Red Shorts is a local festival that is dedicated to celebrating grassroots films - and filmmakers. Michael Chasin, Director of the festival, announced the winners at the end of the event: the Audience Program Favorite awards were for "Sun Spider" by Maya Brittingham, "Karma & Greg" by Dorjan Williams, "Dhivaan's Dream" (tie) by Michael Eldon Lobsinger, "Runway Afrique" (tie) by Cathleen Dean, and "The Penny" by filmmaker Isabel Bacigalupo who also was feted with the Overall Audience Favorite recognition, the Best Music Video award was for the band "Marvlec", and the big winner honor was given to Ecuadorian filmmaker Carlos Patricio Yela who received the Best of Fest Film award with his picture Schizophrenia.

"I was very excited and honored just to have had my film chosen as an Official Selection for the festival, but getting the Best of Fest award is really thrilling and unreal," said Yela. "We hope this recognition is a motivation for Carlos to continue on his career, he has great potential as a filmmaker," Michael Chasin said at the award ceremony. Yela's film, which tells the story of a young man with hallucinations product of a mental disorder, was filmed during the month of May in Miami and since its release it has only received excellent comments and criticisms. "In this movie I tried to present a different story, the perspective of a schizophrenic patient together with the terrible outcomes this disorder can bring," Carlos Yela said. This film was produced as a graduation project for the International Academy of Film and Television of Miami (IAFT), with the participation of highly experienced American actors such as David Ausem and James Borras as well as raising actors Eric White and Janet Carabelli.

Winner´s Background

Carlos Patricio Yela, Ecuadorian born, began his career in the United States by 2005, then in 2009 he returned to his native country to work with national and local TV-stations as commercials, news and variety show producer and director, his transition to film took place in 2012 after getting his filmmaker diploma from the IAFT and since he has managed to have great successes, such as the audience award that he and his team received at the "48 hours film project" Miami 2012 edition. He currently works as director of the cable show "The Arthritis Show" from the studio "My Medicine TV" located at north of Miami. He is currently working in the preproduction stage of two features to be filmed in 2013.